There are a number of activities here in Prince Rupert to appeal to everyone. Take a look below to help you plan your trip and find links to some area businesses that we recommend you check out.
FISHING - Around the Prince Rupert area there are a number of charter fishing operations that can get you out on the water to fish for a variety of deep water species including salmon, halibut, ling cod, rock fish or even soft shell crab. Check out the following preferred charters that we recommend to our guests:
HIKING - There are plenty of rugged trails around our property and the Prince Rupert area. Make sure to set aside at least a little time to partake of the unique British Columbian rainforest. We can recommend a number of area hikes that you can check out. Pictured below are two of our favorite dog friendly trails - Butze Rapids and MyClymot Park. Butze Rapids is a rugged trail with lots of hills and steep hiking. MyClymot Park is an excellent hiking trail that leads from the Lester Center of the Arts through to the Cow Bay Shopping District.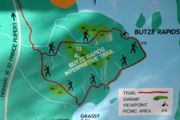 Butze Rapids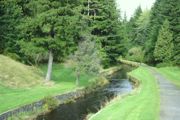 McClymont Park

NATURE & WILDLIFE WATCHING - On our property we have seen eagles, otters, dear, wolves, ravens, hawks, salmon and squirrels. In and around the Prince Rupert area there are also grizzly bears, whales, dolphins, crab and so much more. Bird watchers will love the forest setting at the Tall Trees B&B where we frequently have hummingbirds, blue jays, ravens, eagles, swallows and more. Looking to see really big animals? The ultimate North American wilderness adventure awaits here on the island. We can recommend some great wildlife tour operators and spots so that you can experience the true North.

SHOPPING - The Cow Bay shopping district is an interesting place to spend an afternoon. Try a latte at Cowpucinos or check some neat housewares at Udder Bags. This cute cow themed area has a selection of fashion, jewelery, First Nations art, books and souvenirs. There are also a few spots to stop and have a drink or a bite to eat.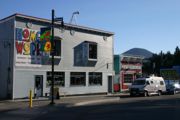 DIVING - There are a great deal of recreational diving activities taking place in Prince Rupert. Come and enjoy wonderful deep sea diving and wreck diving in and around Prince Rupert and Port Simpson harbour.